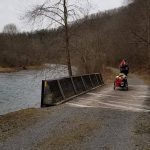 We've been helping others find adventure in The Greenbrier River Valley for 26 yrs
Our goal is to support your Greenbrier River Valley adventurefun with the equipment you'll need.
Our rentals are available for those adventures wishing a *multi-day Bike or trailer rental or for those who have reserved one of our shuttle services for the trail.
Unfortunately, at this time we will not consider day only rentals due to logistical constraints.
Rental rates with shuttle services
*Bike Rental – $35/day
*Trailer Rental – $75/day
*Bike and Trailer – $100/day